Computerized Top of the Stretch
​
(The cards & dice version is still available, too - just scroll down.)


"...possibly the most realistic horse racing tabletop simulation game"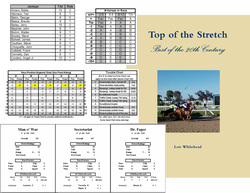 ---
Before you click on the 'Buy Now' button, please read this first!
New Set! "Champions of the 1960s" is now available!

​2023 Triple Crown Files - FREE!


2022 Breeders Cup Preplay Files Free

---
The Best of the Decade 2010-2019
​
​2021 Breeders Cup Editions


​The 2020 Breeders Cup Edition
​​


​2019 Breeders Cup Edition


​Patrick Premo's Fast Action Horse Racing!
2018 Breeders Cup Edition


​2017 Breeders Cup Edition
The Career of American Pharoah
Top of the Stretch 2015 Breeders Cup (Pre-Play Edition)
2014 Breeders Cup Ratings
Spreadsheet software! If you purchase the Rate-a-race version, you'll need one, and these are either FREE or Free-to-try (shareware).